Do you need amazing Pinterest templates for Canva? Well, I have got you!! Over the last year since I have been blogging, I have come across loads of fantastic free Pinterest templates canva and ones where you buy Pinterest templates.
When I first started blogging, I was very reluctant to spending money on my blog. This is why I started investing in free Pinterest templates for canvas. But, it was hard for me to find loads of different ones I could use to style and promote my blog posts.
(This post may contain affiliate links which means I will be making commission if you purchase through these links. I only promote products I trust and have used myself, For more information please click check out my
disclosure policy
)
7 of the Top Best Pinterest Templates for Canva Both FREE & PAID
FREE Pinterest templates for Canva 1# Free customisable Pinterest Template by LifetimeInflux.
You get four free customisable templates for you to use. Templates are for all bloggers for all niches.
I made this customisable for you to use a customise for yourself to make it specific to your own brand.
Free Customisable Pinterest Templates
The templates are colourful and different for you to be able to get them all you have to do is sign up below:
# Summery Floral Pinterest Templates by LifetimeInflux.
These Pinterest templates you can buy for canvas are fully customisable. There are ten fully customisable that you can change the colours, fonts and images to suit you and your brand.
These Beautiful templates, you can make your own and allow you to spend less hour working Pinterest pins and more on other things you may need to do for your blogging.
These Pinterest templates are floral and can be used best for pins you want for blog posts you want to do in the summer. If you have Pinterest Pins were eye-catching, you could be getting tons of CLICK & PINS on Pinterest.
These Pinterest PIns are precisely what you been looking for:
Buy the Pinterest templates for canvas – $15
FREE Pinterest templates for Canva 2# 5 Free Pinterest Templates by The Inspired Boss
The Inspired boss has created 5 beautiful Pinterest templates. To help people who feel overwhelmed with designing especially if they know that designing is not their thing at all.
Amazing for your Pinterest growth and so much more going up from 98K to 282K.
5 Free Pinterest Templates by The Inspired Boss

Pinterest templates you can BUY for Canva 2# Pin Template Starter Kit by Itsallyouboo.
These Pinterest templates for Canva, are in 600 x 900 pixels and 1260 x 600 pixels. You can customise them for yourself and pin them on your Pinterest! Then watch the traffic come in.
With 12-Page Bonus Design Guide that shows you how to customise each pin template. This is from adding or changing colour to how to change backgrounds and more.
Pin Template Starter Kit by Itsallyouboo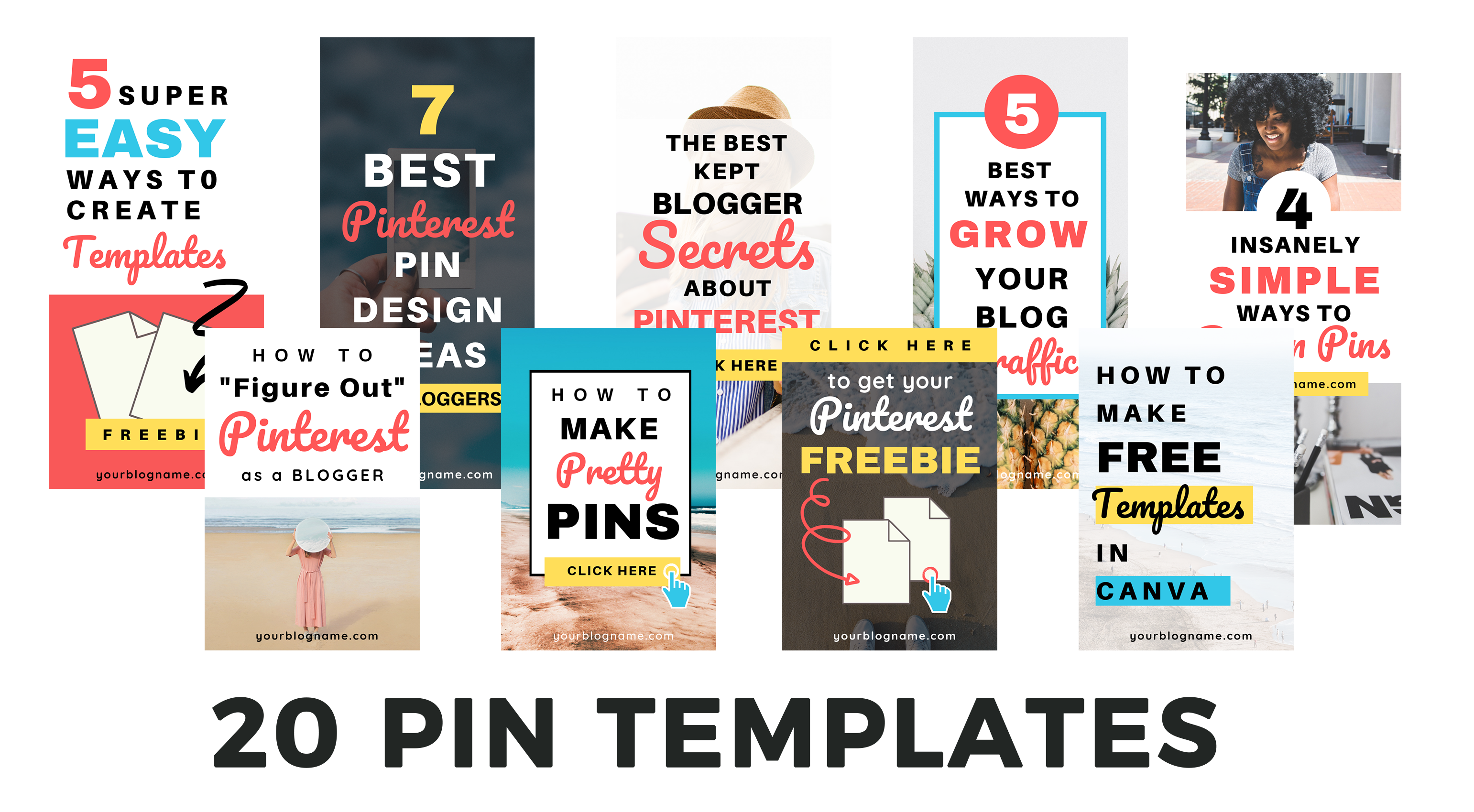 FREE Pinterest templates for Canva 3# Free 12 Pinterest Template by
Pinterest needs, every blog post you create represented by a ping. If you are new to Pinterest, you can create anything to pin on Pinterest.
These Pins are all fantastic for blogging businesses because you can they are easy to use and you can use for a free plan with free plan on canvas. Its becomes very easy to decorate and design you pin for your blog post.
Click here for access to the free pins – visit here.
Pinterest templates you can BUY for Canva 3# 12 Pin Templates by thesis blogger.
The bundle includes 12 Pinterest graphics templates made within Canva.
Once you purchase, you'll receive a PDF with links to the following templates:
– 8 Canva templates for Pinterest in standard size
– 4 Canva templates for Pinterest in a tall size
The templates are suitable for content creators. The way to promote your blog post is by breathtaking visuals.
FREE Pinterest templates for Canva 4# Free 12 Pinterest Template Debbieroy
Debbie is a professional Pinterest strategist and manager; she has created hundreds of Pinterest templates. From this experience, she knows what and which ones work the most.
Twenty free templates to create your beautiful pins for your blog.

20 FREE Fully Editable Pinterest Graphic Templates
PLAYFUL PINTEREST – CANVA TEMPLATES by Ivory Mix
Ivory Mix has tons of different templates; you can use and buy to make your life easier.
There Pinterest Templates are easily editable with the use of using different colours, fonts, photos, move objects.
There are many different templates you can use if you need a simple way of creating Pinterest templates for your blog.
Suppose you are looking to learn how to create Pinterest graphics for yourself. This related Post –
How to Create an Awesome Pinterest Graphics
is the post you need to read. It provides you with all the Pinterest Knowledge on graphics.
Not only does it teach you how to use Canva but it explains how to use canvas with graphics to show you exactly what you need to do to create your own awesome Pinterest design for your blog or any other graphics would like to create. An amazing detailed post for you to gather the information you need.
Related post –
15 explosive online blogging courses for bloggers
– Want to learn more about blogging. This post provides you will good free and paid course for you to get your hands on. Helping you learn the from experienced bloggers, who have been where you've been.
Taking you through the steps on different things, you need to know about blogging. This Includes Pinterest knowledge, SEO knowledge, gaining more Blog traffic knowledge, Pinterest templates for canvas, and so much more.
Amazingly feminine and more soo beautiful for you to attract the right type of audience to your blog. Amazingly stunning and eye-catching. Feel free to take a look and see if you're a new blogger or even blogger looking to redesign your blog theme.